A VERY SAD MOMENT!
Quo had to cancel the rest of the tour due to Francis´ongoing illness. I talked to him today and he really needs to take care because pneumonia can be so dangerous.
So I am in Stüttgart with a heavy heart. Sad for him, sad for all my fans and, perhaps most of all, sad because I so love to play! So, tomorrow, is a new day and I will have new challenges to face. And I thank God for that as I thank Him for all of you. Bye for now ... more mañana.
Your Wizard
Ken
<><
Some of Ken's Latest Work
Other News
Hi Everyone!

I know ... I´ve been quiet here for a while, but that's only because I have been so crazy busy!! In the music business/industry, conventional "wisdom" (and, in the context of the so-called music industry, I use the word "wisdom" very selectively!) says I should have slowed down years ago.

I say ... "why?" I love what I do and I especially love that other people (like all of you) love what I do and, even if my passion for what I do wasn´t enough to keep me doing it (which it is), you all would give me a million good reasons for doing it.

Having just celebrated my 72nd birthday, I humbly reflect on how much I have accomplished in my personal and professional lives and I rejoice and give thanks that I am still able to write, play and sing.

My career once gave me riches I couldn´t understand or manage. Now I have the real richness of a great wife, a great family and a wonderful ¨sub-family¨ of fans and friends all over the world and this means more to me than any amount of wordly riches!

So, as long as you want me there and as long as God gives me my health and strength, I will be there! Not for ¨them¨, not for the money and certainly not for the fame.

FOR YOU! I am, YOUR WIZARD!!

God bless you all


Ken <><

This is going to be such a great moment in my career and and a piece of rock & roll history!

Me and Live Fire will be Alice´s band for one night only and to be on stage together with him is going to be amazing ... at least for me!!


Ken <><

My dear friends and fans in St. Petersburg and Moscow.

Just so you know...

The problem with the cancelled shows was NOT the company Art Plus
or the director Michael Malomed!! Unfortunately, they chose the wrong partner too!!
Ken <><

My dear friends and fans in St. Petersburg and Moscow.

I am very sorry to tell you that we have to cancel the shows that were planned for November 10th and 12th!!

We chose the wrong partner for what was supposed to be a short tour in Russia but they broke the contract in so many ways, it became impossible to do even the two shows they could confirm.

You all know I have NEVER cancelled a show there before and I am really sad to do it now, but I know you will understand and that I will see you all next time.¨!

With much love,

Your Wizard

Дорогие друзья и поклонники в Санкт-Петербурге и Москве!

Мне очень жаль, но я вынужден сообщить Вам об отмене концертов, запланированных на 10 и 12 ноября.

Мы опрометчиво выбрали организатора нашего короткого тура по России, и уже слишком много договоренностей оказалось нарушено.

Вы знаете, что до этого момента я НИКОГДА не отменял своих концертов, и мне действительно грустно делать это впервые за столько лет. Но я искренне надеюсь на Ваше понимание и на то, что мы обязательно увидимся в ближайшем будущем!

С любовью,

Ваш Волшебник



Ken <><

It is with regret that Lee Kerslake' health has deteriorated at this time.

Therefore we will have to postpone "The Lee Kerslake Rock Party in aid of the Nightingale Cancer Support Group",
which was to be held at the 100 Club on 18th September.

As soon as Lee is strong enough we will make a further announcement.

In the meantime anyone who has bought tickets can apply for a full refund at www.WeGotTickets.com.

Or you can keep your ticket/s for a re-scheduled show.



Ken <><

Lee Kerslake former drummer with the legendary British rock band Uriah Heep and Ozzy Osbourne will host a much anticipated show.

A charity rock night On Sunday the 18th September 2016 at Oxford Street's famous 100 Club in aid of the Nightingale Cancer Support Group charity.

One year ago Lee contracted cancer and underwent major therapy. During the height of his illness, Lee decided he wanted to do something to thank the caring team at the Nightingale Cancer Support Group who were so dedicated to him, so he decided to host this unique event .

The night has attracted some of rock's royalty to come together for a one off jam session, including MICK BOX, KEN HENSLEY, BERNIE SHAW, PHIL LANZON, DAVEY RIMMER, RUSSELL GILBROOK, plus Our Propaganda, Jake Libretto, Phil Hilborne, and many others.

There will also be a charity auction with many iconic rock memorabilia being kindly donated by the stars, including a signed guitar by the band Iron Maiden.

For further details about the show and available tickets click here!

Ken <><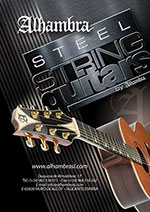 Alhambra Guitars
In concert, Ken Hensley plays Alhambra steel-string acoustic guitars exclusively.
Want to know more? Visit their website.