Some of Ken's Latest Work
NEW SHOWS!
Ken's been busy flying all over the world this year, and he's not stopping now! There's plenty of shows still to go before the end of the year! So jump over to the Tour page and see where he's headed next!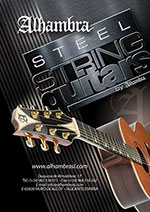 Alhambra Guitars
In concert, Ken Hensley plays Alhambra steel-string acoustic guitars exclusively.
Want to know more? Visit their website.