YIPPEE!! A new year!
Of course it means we are all (already or about to be) a year older, but I gave up thinking about that a long time ago.
And I am really happy and thankful to have so many cool things to look forward to this year and into 2020 which, as many of you may have figured out, is a BIG anniversary! (If you haven´t figured it out yet, think about it and I bet you will)
This year I will release a new album of new songs called "Monsters and Machines". Most of the songs are already written and next week I start work on finishing the demos. The cover is done, courtesy of my friend, the great Russian artist and illustrator Ilias Aidarov and my illustrious manager/magician Steve Weltman is working on budgets, scheduling and studios right now.
The first draft of my musical ¨Born To Rock¨ is almost finished and will be ready to deliver in mid-February. Ultimately the producers will decide how to handle this but I am really excited about what is, for me at least, a completely new venture/adventure!
Then there´s my second book, entitled "Who Am I" and my collection of poetry and essays which date back to when I was 10 years old.
Shows are already booked for this year taking in Russia, Sweden, Norway, Czech etc. and the whole year will continue to plan out over the next few weeks. Ben will ultimately publish the dates on the web site as they are confirmed, so stay tuned for that.
As 2020 is such a special year, Steve and I have very special plans for it. These include a global tour of very different live shows and another album, based on the line-up for those shows.
A LOT OF FUN STUFF!!
By now I guess most of our New Year´s resolutions have already been broken but some of mine will always stay the same.
To keep bringing you the best music possible (live or recorded), to find new ways to help people in need, to love and support my wife and my family as much as I possibly can and, most important of all, to hand all of these plans over to God who is much wiser than me and who knows better than I do what should be done.
I wish you all safe and happy days ahead and I hope you will find time to come and visit me when I am close by.
God bless and keep you all
Ken
<><
Some of Ken's Latest Work
More News
New Gig in Novokuznetsk, Russia!




I am very excited to announce that I will be playing an outdoor show in Novokuznetsk with Live Fire on 7th July this year,
to celebrate the 400 year birthday of the City.

To all my fans and friends in Russia I look forward to seeing you there, hope you can make it!

God bless

Ken <><

What a great way to start 2018!!

Every new year is exciting to me, bringing new challenges and opportunities but this one is really special because I can share it with you.

My new CD, "Rare & Timeless" is released on March 30th by BMG Records, but you can pre-order it now from Pledge Music - just click here!

It has 15 songs that cover my career from 1970 to now, including some re-records, re-mixes and Two Brand New Songs! Hand-written lyrics, notes and credits, as well as some rare photos from my personal files!

And, at the Pledge Music page, you can also grab a chance to join me at the release party on february 26th at the hospital club in london, where i will play my acoustic solo show! There are only limited spaces available so you´d better jump if you want to be a part of this very special event. I would love to see you there and, of course, during my show, I will be playing some of the songs on the CD, plus others and I will be sharing this moment with some very special people who also helped to make this happen all those years ago.

Of course, we have lots of other stuff planned for 2018, but let´s get together now and kick things off in a big way!

God bless

Ken <><

Hi Everyone!

I know ... I´ve been quiet here for a while, but that's only because I have been so crazy busy!! In the music business/industry, conventional "wisdom" (and, in the context of the so-called music industry, I use the word "wisdom" very selectively!) says I should have slowed down years ago.

I say ... "why?" I love what I do and I especially love that other people (like all of you) love what I do and, even if my passion for what I do wasn´t enough to keep me doing it (which it is), you all would give me a million good reasons for doing it.

Having just celebrated my 72nd birthday, I humbly reflect on how much I have accomplished in my personal and professional lives and I rejoice and give thanks that I am still able to write, play and sing.

My career once gave me riches I couldn´t understand or manage. Now I have the real richness of a great wife, a great family and a wonderful ¨sub-family¨ of fans and friends all over the world and this means more to me than any amount of wordly riches!

So, as long as you want me there and as long as God gives me my health and strength, I will be there! Not for ¨them¨, not for the money and certainly not for the fame.

FOR YOU! I am, YOUR WIZARD!!

God bless you all

Ken <><

This is going to be such a great moment in my career and and a piece of rock & roll history!

Me and Live Fire will be Alice´s band for one night only and to be on stage together with him is going to be amazing ... at least for me!!

Ken <><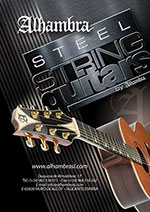 Alhambra Guitars
In concert, Ken Hensley plays Alhambra steel-string acoustic guitars exclusively.
Want to know more? Visit their website.
Alhambra Website